In a world that's constantly on the move, there are those who stand steadfast, dedicated to serving and protecting others. These are our everyday heroes - the individuals who selflessly give their all to ensure our safety, health, and education. Yet, too often, their unwavering commitment goes unnoticed and unappreciated.
At Motor Source Group, we believe it's time to change that. We're proud to introduce our heartwarming campaign, Cookies for Heroes, an initiative aimed at recognising and celebrating the heroes in our communities who serve in the NHS, Police, Prison Service, Fire & Rescue Services, Military, and the teaching profession.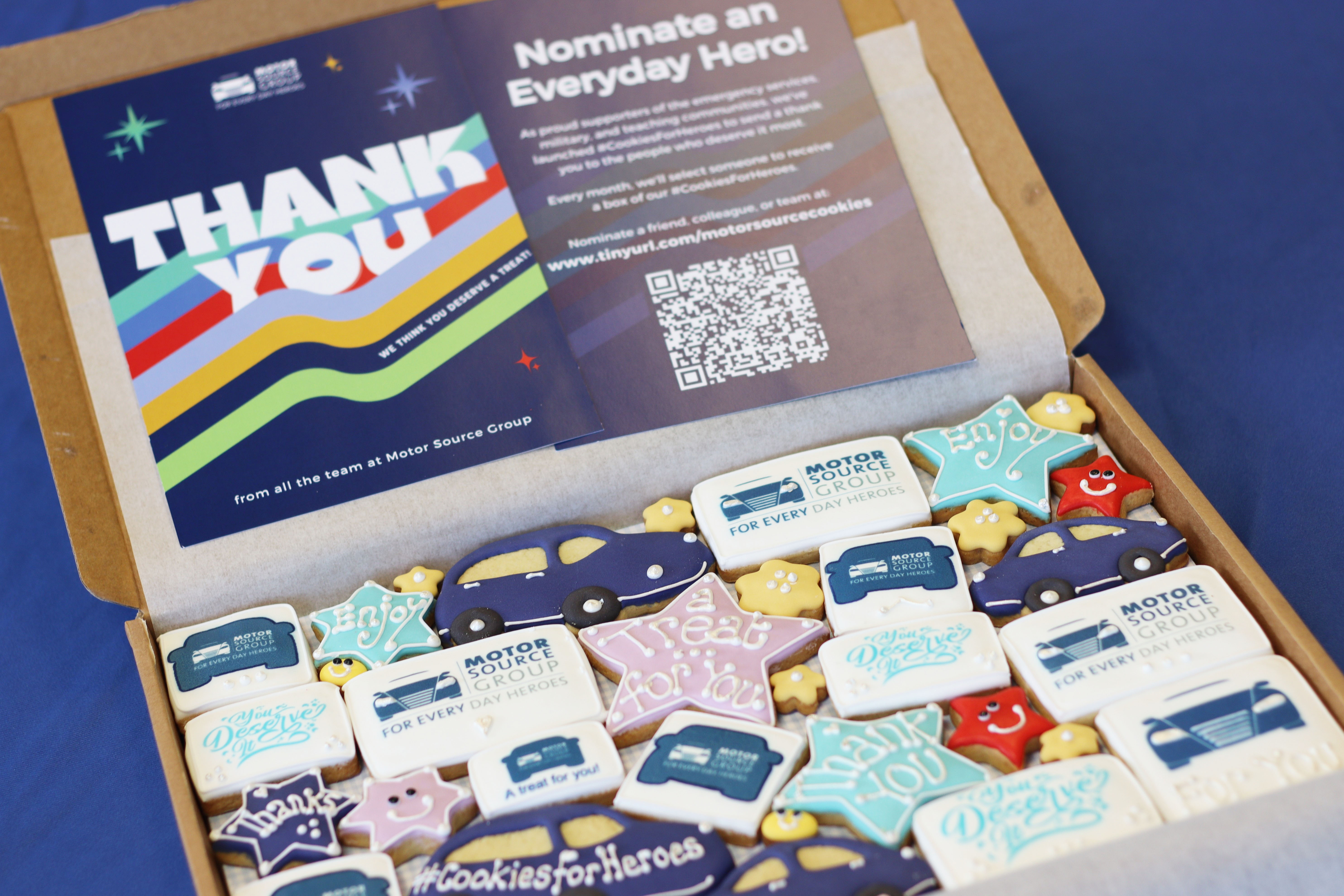 A Token of Gratitude
Cookies for Heroes is a way for us to show appreciation to those who tirelessly work behind the scenes, making sacrifices for the greater good and every month, we will be sending out a box of delicious cookie box treats to say thank you from all of us at Motor Source Group.



Steve Thornton, Founder and CEO said "We have always strongly believed in thanking our communities with our mission firmly focused on recognising and rewarding our emergency services and other public sector personnel with our unique new car discounts programme. In the current climate, we understand the time and financial struggles people are facing, so now more than ever our everyday heroes deserve to know they are appreciated, and we're here to tell them in the sweetest way possible - with cookies!"
Nominate Your Everyday Hero
We invite you to nominate your everyday heroes. These could be the doctors and nurses working tirelessly in our hospitals, the brave officers on our streets, the compassionate educators shaping our children's future, and so many more. If you know an individual, team or department who goes above and beyond in their service, it's time to shine a spotlight on them.
Nomination is easy! Simply fill out the nomination here. Tell us why they deserve recognition, and how they've made a difference in your life or your community. We can't wait to read your inspiring stories and honour these exceptional people.
Don't forget to share this with your friends and colleagues too so we can send out more sweet treats.
Supporting Another Small Business Too
Our cookies aren't just any cookies; they are handmade, bespoke, and crafted with love by a local small business to us, Cookie Doodle Doo in Lincolnshire. So not only will you be spreading cheer to your deserving colleagues, you will also be supporting a small business too.
Together, We Can Make a Difference
At Motor Source Group, we firmly believe that a small act of kindness can go a long way. Cookies for Heroes is our way of saying thank you, but it's also an opportunity for all of us to collectively express our gratitude to the heroes who keep our communities safe, healthy, and educated. Together, we can make a difference and bring smiles to the faces of those who work tirelessly to make the world a better place.
Join us in this heartwarming campaign and let's sweeten the lives of our everyday heroes one cookie at a time.