Ten Second Review
The CUPRA performance brand strikes out on its own with the Formentor, a lively Spanish take on the mid-sized performance SUV concept. Jonathan Crouch takes a look.
Background
This is more like it. When in 2018, Spanish maker SEAT announced that CUPRA would become a stand-alone brand, we were first served up merely a performance variant of the Iberian maker's Ateca Crossover. This Formentor model, in contrast, is a completely new design - well almost anyway. It does share a platform and some mechanicals with the Ateca, but everything else feels much more bespoke. You'll probably know the 'CUPRA' name, but only as a sporty trim designation that goes back to 1996, since when it's been used on a whole string of SEAT Ibiza and Leon hot hatches.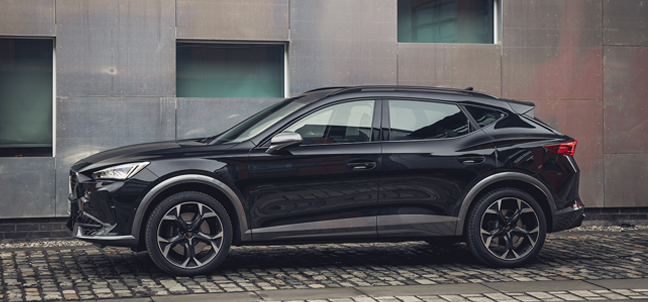 Now, SEAT wants CUPRA to mean more, creating, in its words, 'a range of unique, sophisticated performance models designed to captivate car enthusiasts.' The idea here, says the company, is 'to create cars not founded in nostalgia but rooted in the present'. Presumably, that's meant to be a dig at directly competing brands like Alfa Romeo and MINI, both of which produce products this Formentor model sets out to directly target: namely, quick, charismatic petrol-powered mid-sized SUVs, cars that offer a lot of what you get in, say, a Porsche Macan for a great deal less money. Is that what we've got here? Let's find out.
Driving Experience
It should be no surprise given CUPRA's mantra as a performance brand that drive dynamics are the Formentor's main focus. And it comes well equipped for the task, the fast variant using the Volkswagen Group's 2.0-litre TSI turbo four cylinder engine in its most ballistic state of tune, with 310PS on tap. If you can't quite stretch to that, this same 2.0-litre powerplant comes in two other flavours; one with 190PS and 4-wheel drive, the other with 245PS and front wheel drive. There's an entry-level front driven 1.5-litre TSI 150PS variant too, but if budget permits, a better choice for efficiency would be one of the two front-driven e-Hybrid PHEV plug-in derivatives, offering either 204 or 245PS. In both cases, a 150PS 1.4-litre TSI petrol engine is mated to a 6-speed DSG auto gearbox and an 85kW electric motor powered by a 13kWh lithium-ion battery with a WLTP-rated all-electric driving range quoted at 34 miles.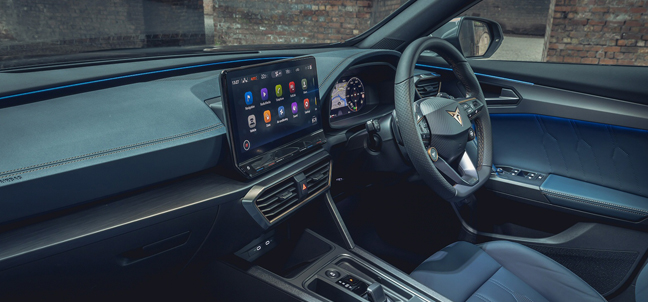 I tried the 310PS 2.0-litre turbo version, which like other Volkswagen Group models using this unit gets 4-wheel drive and adaptive damping as part of a very accomplished package. 62mph from rest here takes only 4.9s, which is only 0.7s slower than the limited run variant that serves as the Formentor range flagship, the 2.5-litre 390PS left hand drive VZ5 model. Drive is via the usual VW Group 7-speed dual-clutch paddleshift auto gearbox. And there are five selectable drive mode settings - 'Comfort', 'Off Road', 'Sport' and rorty 'CUPRA', with an extra 'Individual' menu if you want to set your own parameters. Handling through the turns is accomplished, thanks to the 4Drive electro-hydraulic multi-disc system's reassuring levels of traction, its software constantly monitoring numerous sources - steering angle, wheel speed, the yaw of the vehicle and road conditions in real time - so as to always deliver power to the wheels with most traction.
Design and Build
The Formentor sits a little lower than most other performance SUVs and Crossovers. In fact, it's a full 150mm lower than the Ateca that it is based on and only 50mm higher than the CUPRA Leon 5 door hatchback. In terms of size, think Volvo XC40 or Audi Q3, but it has more pavement presence than either of those two cars, the design emphasis being on a long bonnet, which coupled with the lower height, gives the car a very dynamic appearance - and one that is completely distinctive.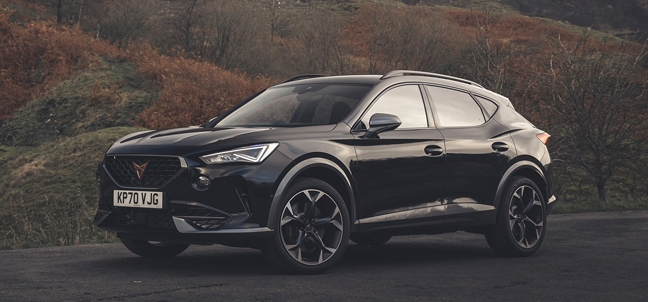 Inside there's lots of brushed, dark aluminium with copper accents and blue leather-trimmed front bucket seats. In the centre of the dash is a large 12-inch touchscreen infotainment screen that allows the usual access to navigation, info and media. It's paired with a fully-customisable 10-inch digital instrument binnacle; sitting behind a flat-bottomed steering wheel that houses both the engine start button and the 'CUPRA' driving mode buttons. There's the usual stubby VW Group auto gear lever. And a lovely orange LED strip that circumnavigates the top of the dash, flowing into the doors. The rear seat could comfortably take a couple of adults - but three would be tight. And out back, there's a competitively-sized 420-litre boot.
Market and Model
Before our exclusive discounts, pricing starts at over £27,000, even for the entry-level 1.5-litre TSI model. Lesser variants have 'V1' and 'V2' trim options. The top 310PS 2.0 TSI 4Drive flagship version sticks with the top 'VZ2', 'VZ3' and 'VZ Edition' trim options, and prices from just under £40,000. The name VZ comes from the word 'Veloz' in Spanish, translating as 'Speed' or 'Fast'. Even with base 'V1' trim, customers get quite a lot: 18-inch alloy wheels, a 12-inch infotainment touchscreen with connected navigation, a 10-inch digital driver binnacle, LED headlights, rain-sensing wipers, Adaptive Cruise Control, a wireless smartphone charger, a leather steering wheel and rear parking sensors.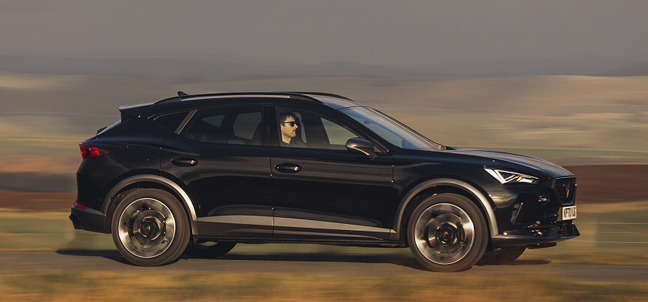 With the 'VZ2', you also get 19-inch wheels, a powered tailgate, a heated steering wheel and a rear view camera. From 'VZ2' trim upwards (which, as we said, means the 310PS 2.0 TSI variants), there's leather upholstery, powered front bucket seats, leather trim for the dash and doors. There's also a 'Safety and Driving Pack', which gives you Dynamic road sign display, High Beam Assist, Side Assist (effectively a blind spot monitor), Exit Assist (offering audible and visual warnings of approaching traffic when opening doors), Lane Change Assist and Emergency Assist. The 'VZ3' adds 19-inch 'Exclusive' copper/black alloy wheels and Brembo brakes.
Cost of Ownership
If you really care about efficiency in a Performance SUV, then it's to the 'e-HYBRID' Formentor models you'll be looking. We already mentioned that these offer an electric only range of 31 miles on the WLTP cycle. Powering a PHEV CUPRA Formentor up from a domestic socket would take around five hours, but using a garage wallbox, you'll be able to reduce your charging time period to around three and a half hours. At the other end of the scale sit the 2.0 TSI 310PS 4Drive versions of this car with their DSG auto transmission. These are WLTP-rated at between 31.4mpg and 33.2mpg on the combined cycle and up to 193g/km of CO2. The 1.5 TSI manages up to 44.8mpg and 143g/km in manual form.
Less impressive is the three year/60,000 mile warranty cover. The paintwork warranty lasts for three years and, as you'd expect, this car is protected by a 12-year anti-corrosion package. The Formentor e-HYBRID has a separate eight year battery warranty, which also covers the battery for up to 100,000 miles. For insurance purposes, Thatcham rate the 2.0 TSI DSG-auto 4Drive 310 model in group 33P.
Summary
With this Formentor, the story of the CUPRA brand has at last begun in earnest. It's difficult to forge your own identity when you've spent most of your time helping to define performance models from another brand, in this case SEAT. But with this car, the whole 'Iberian Alfa Romeo' thing starts to make some sort of sense.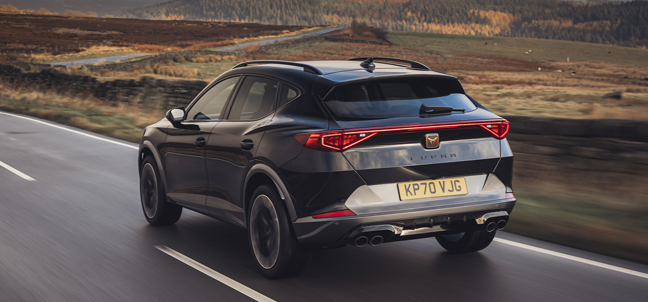 After all, the Formentor is (potentially) fast, practical, interesting to look at and, for the time being anyway, you might even think it to be a touch exotic. Whether you actually get what's been promised here - essentially a Porsche Macan, a BMW X4 or a Mercedes GLC Coupe distilled down into something more affordable - is a judgement you might actually rather enjoy making. We're not quite convinced, but we have seen enough to feel hopeful about the CUPRA brand's future. Can there really be 'latin spirit in every one'? If the marque can deliver that, there's a place for it in the market.